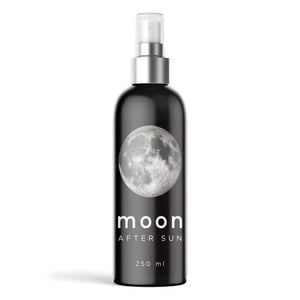 About
Moon After Sun - the ultimate post-sun solution for healthy, glowing skin! Infused with the power of hypochlorous acid, this specially formulated spray helps soothe, hydrate, and restore your skin after a day in the sun.
This 100% natural, organic, water-based formula is gentle on your skin and will leave it feeling refreshed and hydrated, while effectively combatting sun damage. Moon after sun is gentle on all skin types and is suitable for adults and children of all ages. Use it on your face and body after outdoor activities including trips to the beach and sporting events.

Directions: For best results, generously apply moon on affected areas and allow it to air dry. Repeat as often as needed to enhance the cell-repairing process. Additional moisturiser can be applied afterwards to assist with hydration.
Moon is free from alcohol, ammonia, bleaches, sulphates, copper, phenols, sulphur, iodophors aldehydes, pesticides, fragrances, and silicone.