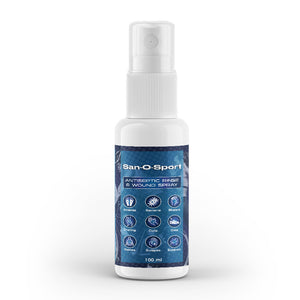 About
Stay in the game with San-o-Sport! It is your go-to solution for fast and effective wound care. Packed with the power of pure hypochlorous acid, it's the ultimate defence against bacteria, viruses, and fungi. Ideal for athletes and active individuals, this gentle but potent formula promotes healing and prevents infection. Keep San-o-Sport in your gym bag, first aid kit, or medicine cabinet for peace of mind whenever you need it.
Formulated with Hypochlorous acid, a natural and safe antimicrobial agent used to effectively treat cuts, rashes, chafing, burns, and blisters.

This water-based formula is gentle on the skin while providing soothing relief and promoting cell repair. Perfect for athletes and active individuals, San-O-Sport is the ultimate solution for keeping your skin healthy and protected, preventing infections and accelerating healing.
Directions: Spray San-O-Sport on the affected area and let it air dry.  Repeat application as needed. Keep in your gym bag or first aid kit for a quick fix and fast relief when you need it.
San-O-Sport is free from alcohol, ammonia, bleaches, sulphates, copper, phenols, sulphur, iodophors aldehydes, pesticides, fragrances, and silicone.