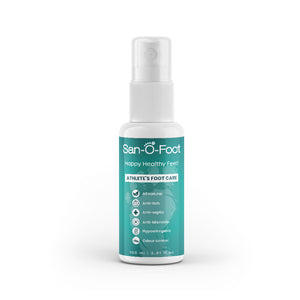 About
Say hello to happy, healthy feet with San-O-Foot! This powerful yet gentle foot care solution is made with hypochlorous, effectively fighting against foot Odor, bacterial and fungal infections. Perfect for everyday use, San-O-Foot can help you maintain clean and fresh feet.
San-O-Foot is safe for use on all skin types and all ages. This non-irritating formula is ideal for those with sensitive skin. San-O-Foot can be used to combat a range of foot-related conditions including fungal infections (such as athletes' foot), foul odour, blisters and calluses, irritation and inflammation, infected wounds, dry and rough soles, as well as pre- and post-pedicure disinfection. Medical Grade disinfectant effective against bacteria, fungi and infectious pathogens.
Directions for use: If your feet are soiled /dirty, wash them with soap and water and dry completely before using the product. Apply the San-O-Foot to the affected area(s) of the feet using a clean cotton ball or pad. Allow the solution to air dry completely. Repeat application at least twice a day, or as often as possible for maximum results.
San-O-Foot is free from alcohol, ammonia, bleaches, sulphates, copper, phenols, sulphur, iodophors aldehydes, pesticides, fragrances, and silicone.