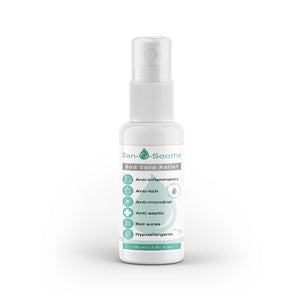 About 
Harnessing the healing power of hypochlorous, this breakthrough formula brings you fast and soothing relief from bed sores. Experience the gentle touch of science as San-O-Soothe nurtures your skin, accelerates healing, and banishes discomfort. Embrace the power of rejuvenation with San-O-Soothe and bid farewell to bed sore woes.
San-O-Soothe is pH-balanced solution that is gentle and non-irritating to sensitive skin.  This effective solution is an effective anti-septic that also harnesses your natural anti-inflammatory and cell repairing mechanisms to address the bedsores and sweat Odor that occur from being bed ridden.
Directions: Before using San-O-Soothe, clean the affected area with soap and water and dry with a clean towel. Spray on the affected area or use a clean cotton pad to apply and leave to air dry completely for at least 5 minutes. Apply at least twice a day or more frequently up to 5 times a day for best results. A hydrating cream can be used in conjunction with San-O-Soothe.
San-O-Soothe is free from alcohol, ammonia, bleaches, sulphates, copper, phenols, sulphur, iodophors aldehydes, pesticides, fragrances, and silicone.